There ARE Alternatives to Jaw Surgery!
Have you ever been told you would need braces and jaw surgery in order to straighten your teeth and get a healthy bite? Have you been diagnosed with a significant open bite, overbite, underbite or another major issue that braces alone cannot fix without jaw surgery? We may have an alternative! Our Shorewood and Naperville orthodontists Dr. Ibrahim and Dr. Gin have successfully treated patients just like you without surgery or braces by using Invisalign. We can often fix even extremely complex issues with orthodontics alone thanks to:
Unparalleled expertise with Invisalign®️ and AcceleDent®️
3D computerized treatment planning that gives us complete control over tooth and jaw movements
Our cutting-edge technology, including i-CAT™️ and iTero®️, that lets us see your dental and facial anatomy from every angle
Book a FREE consultation to learn how we can help you achieve your dream smile without surgery.
Let's face it. Surgical orthodontics is a big commitment and there is significant time, money and, yes, discomfort involved. Of course, there are cases when it's necessary but, more often than not, with today's technology and an experienced orthodontist who thinks outside of the box, like Dr. Manal Ibrahim or Dr. Christine Gin, you can get a healthy, beautiful smile and much improved bite without jaw surgery.
Conventional orthodontic treatment with older technology has limitations and can mean patients are told jaw surgery is the only answer. At Innovative Orthodontic Centers, we invest in the latest advances in the field. Our controlled, technology-driven approach lets us move the teeth and jaws more predictably and efficiently. As a Diamond+ Invisalign Provider and the #1 AcceleDent provider in the world, we've paved the way in facilitating complicated movements with these tools.
We have patients who travel far and wide to come to our office to get a smile they love without surgery and you can be one of them. You absolutely deserve the confidence and comfort that comes from having an aligned bite and a beautiful smile. We can help.
Even after having braces, I developed a severe open bite around 18 years old. I consulted with 3 different orthodontists and numerous dentists and was told there was no way to fix my bite other than jaw surgery and extensive braces. My open bite impaired my speech and ability to eat certain foods, and I was very self-conscious about it. Once I was finally able to look into treatment again, I found Dr. Manal Ibrahim. I was skeptical at our consultation and Dr. Ibrahim correctly named me a "doubting Thomas." However, I was wrong and I still cannot believe the transformation my teeth have undergone with Invisalign. Dr. Ibrahim's enthusiasm, kindness, and attention to detail are remarkable. Now, I can speak clearly, eat anything I want (hello buffalo wings), and have confidence in my appearance. Dr. Ibrahim and the team at Innovative Orthodontic Centers are truly an answer to prayers and miracle workers!
Not a single picture taken on my wedding day or the day my children were born show a big toothy grin. Why? Because I learned years ago to hide my teeth; they were ugly and embarrassing. I would periodically look into orthodontics but was told I'd need jaw surgery and years in braces and even then, a positive result would not be promised. At my initial consultation, Dr. Ibrahim developed a treatment plan using just Invisalign and AcceleDent. Now, at the end of treatment, you'd be hard pressed to find a current picture of me that doesn't feature a big toothy grin. My jaw pain is gone, my gums are healthy and my smile is gorgeous.
I had developed a completely open bite, a lisp and it was hard to even eat normally. I was told by two different dentists that I would need jaw surgery until I met Dr. Manal Ibrahim. At my consultation, she created a computer image of my mouth and showed me what my end result would look like, achievable with Invisalign. I was skeptical, but also desperate since I did not want to have jaw surgery. I have to say, treatment was the best thing I could have ever done for myself. In only a short time, my smile was back. I get so many compliments on my new smile and I'm forever grateful to Dr. Manal Ibrahim.
You Deserve a Second Opinion
If you've been told that you need jaw surgery, you owe it to yourself to get a second opinion. Schedule a virtual consultation with a knowledgeable Naperville or Shorewood orthodontist to see if we can help you get your dream smile without surgery.
Book a virtual consultation
SMALL LOWER JAW – WERE TOLD THEY NEEDED ADVANCEMENT OF MANDIBLE
OPEN BITE – WERE TOLD THEY NEEDED UPPER JAW SURGEY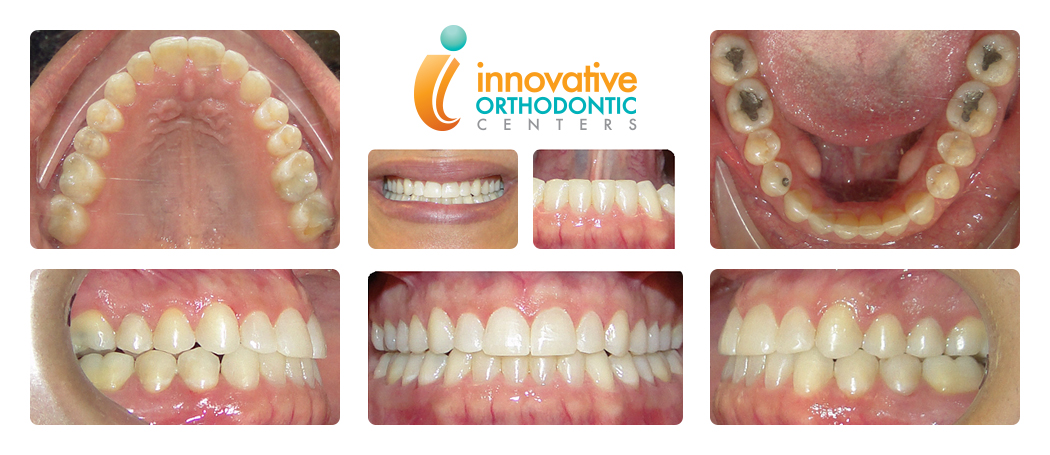 BIG BOTTOM JAW – WERE TOLD THEY NEEDED LOWER JAW SURGERY
BIG BOTTOM JAW – WERE TOLD THEY NEEDED LOWER JAW SURGERY
OPEN BITE – WERE TOLD THEY NEEDED UPPER JAW SURGEY
SMALL UPPER JAW – WERE TOLD THEY NEEDED 2 UPPER JAW SURGERY, ONE FOR EXPANSION AND ONE FOR ADVANCEMENT
OPEN BITE – WERE TOLD THEY NEEDED UPPER JAW SURGEY
OPEN BITE – WERE TOLD THEY NEEDED UPPER JAW SURGEY
OPEN BITE – WERE TOLD THEY NEEDED UPPER JAW SURGEY